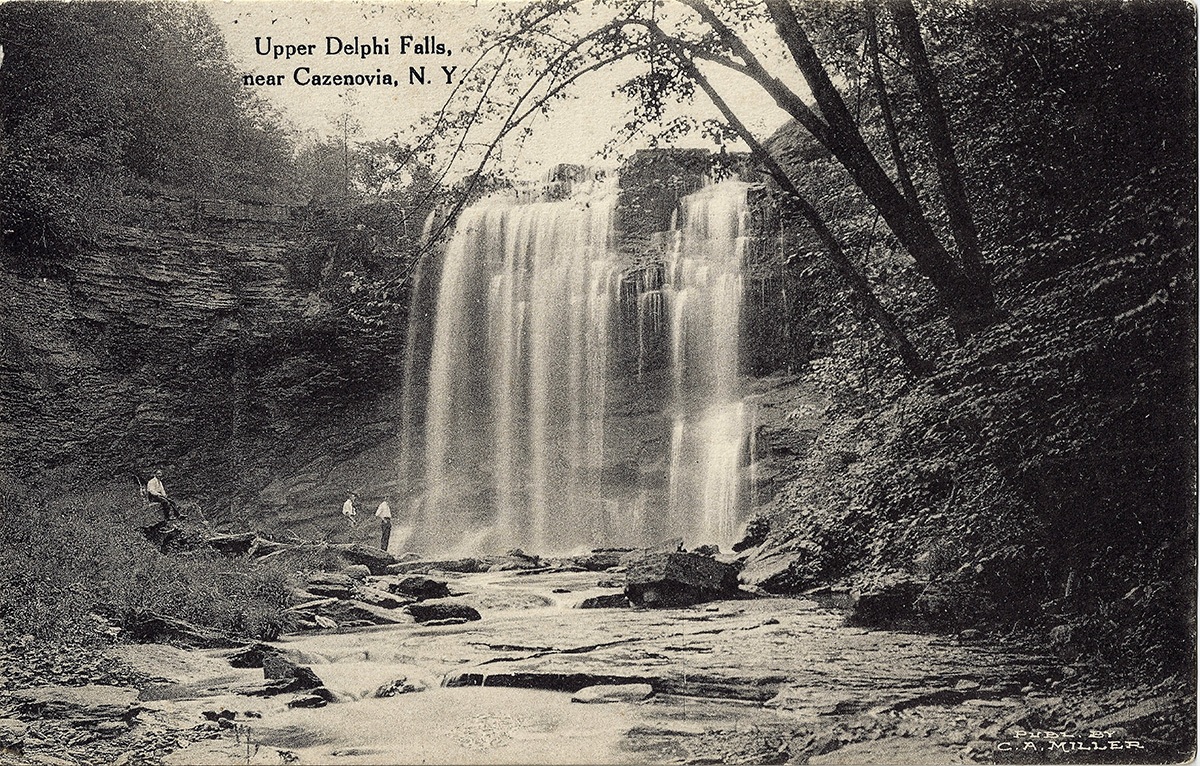 Delphi Falls
Delphi Falls, New York is a hamlet in the town of Pompey, Onondaga County, New York. It was prosperous in the early 19th century. It is the location of several houses and has a golf course nearby. There are a lot of corn fields. It is the boyhood home to author Jerome Mark Antil and fictional surroundings for his novel The Pompey Hollow Book Club featuring Delphi Falls residents Dale Barber, Bobby Mawson and historical The Delphi Falls Cemetery. Delphi Falls is located southeast of the hamlet in Madison County.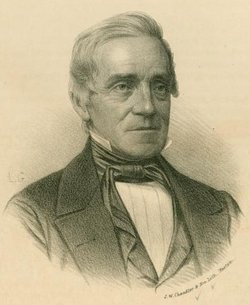 US Congressman. He was trained as a carpenter and moved to Onondaga County, New York in 1812. He settled in Delphi (now Delphi Falls), and became active in a variety of ventures, including a dry goods store. Litchfield served as a Major in the War of 1812, and became one of the county's leading citizens, serving as Justice of the Peace and Onondaga County Supervisor. From 1817 to 1821 he was Delphi's Postmaster. Litchfield served in the New York Assembly in 1819. In 1820 he was elected to the US House as a Democratic-Republican. He was reelected in 1822 as a Crawford Republican, and served from 1821 to 1825. Litchfield did not run for reelection in 1824 and returned to his Onondaga County business interests. He served in the New York Assembly again from 1831 to 1833. In 1838 he relocated to Cazenovia, Madison County. He served in the state Assembly in 1844 and 1848, serving as Speaker in his final term. Litchfield remained active in numerous businesses, including serving as President of the Detroit, Monroe, and Toledo Railroad.
Bio by: Bill McKern
General Henry Slocum. Click Here To Learn More.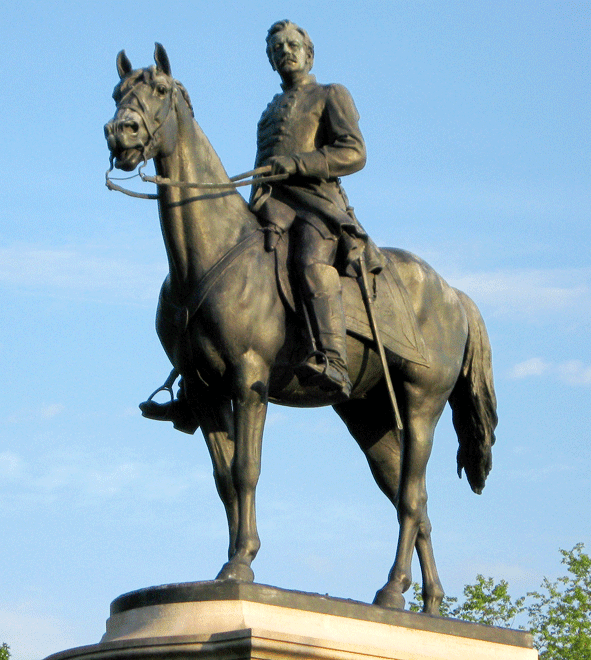 Henry Warner Slocum was born at Delphi, New York on September 24, 1826. He graduated from West Point with the class of 1852, and served against the Seminoles and in Charleston Harbor. In 1856 he resigned his commission to practice law, settling in Syracuse and becoming a state legislator and a colonel in the state militia.
With the outbreak of war Slocum became Colonel of the 27th New York, and was wounded at First Bull Run. When he recovered he was given a brigade, and then a division in Franklin's 6th Corps. After Antietam he was given command of the 12th Corps, which performed well at Chancellorsville, although Slocum scathingly criticized Hooker.
Slocum was criticized for delaying his arrival at Gettysburg while sending his troops on ahead; he knew that as senior corps commander he would assume command if he arrived before Meade. Once he arrived he did well, holding the right flank of the army against repeated attacks by Ewell's Confederate 2nd Corps.
After the Union debacle at Chickamauga Slocum's 12th Corps was one of two corps of the Army of the Potomac chosen to go west under Hooker's command. Slocum immediately sent in his resignation. It was refused, and a compromise was achieved where Slocum and a part of his Corps would operate independently of Hooker.
When Hooker eventually resigned (over being asked to serve under former subordinate Oliver Howard) Slocum was called to take over the 20th Corps, which was the first Union unit enter Atlanta. Slocum commanded the left wing of Sherman's Army (the Army of Georgia) on the March to the Sea.
After the war he practiced law in Brooklyn and served three terms as a Democratic U.S. congressman. He also served on the Board of the Gettysburg Monument Commissioners. He died in Brooklyn in 1894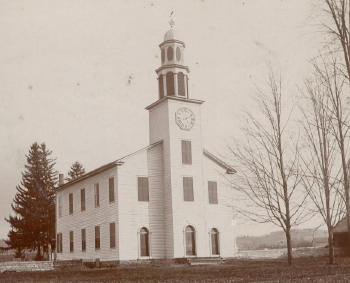 The Delphi Baptist Church, also known as Delphi Falls United Church, was built in 1815 and listed on the National Register of Historic Places in 1979.[1] It's a very large, old, and well-lit church. It features large "twenty over twenty sash windows", consisting of 20 glass panes in each of upper and lower sashes. It is the only surviving nearly-original church "in Onondaga County surviving from the Federal period."
Delphi Falls Baptist Cemetery
The Delphi Falls Cemetery, situated around the Delphi Falls Baptist Church, in the Hamlet of Delphi Falls in the southeast corner of the Town of Pompey, Onondaga Co., NY, is one of the more unique cemeteries in central New York. Although the church is very old, built in 1816, the cemetery which wraps around the back of it seems to be older as a number of burials date even earlier than the church, with the earliest dated 1803 - 13 years before the church was built. There is a tradition that additional burials may be located under the church, but the source of this is not known. It is also possible that the pre-1816 burials here had been moved to this cemetery from other cemeteries which were being abandoned or which the family was no longer using, this being a common practice in the nineteenth century.
The cemetery and church were until recently falling into disrepair. Within the past few years a considerable amount of labor has been expended to restore the church building and to return the cemetery to a more kept appearance. The cemetery seems to have been in good condition in 1941 when Girard M. and Marjorie H. Parce made a transcription of the stones and made a map of the location of all the stones. Today there is still much work to be done, but the stone wall surrounding the grounds has been partially restored, many fallen stones have been dug out and set upright, an iron fence around one of the small plots has been fixed, and many holes and depressions have been filled.
This is a large cemetery and I did not intend to make a new listing of the stones, but my experience with the Parce's list indicated that there were some minor errors which might make a new examination necessary. The Parces made two lists, one alphabetical and one to go with their map and discrepancies between the two lists in spellings, dates, and ages made one question which version was correct. Their map is a wonderful finding aid which I could not hope to update, but the researcher using it to find some stones should be aware that there are also some minor problems with the map. When the Parces made the map they surveyed the cemetery in three sections: the south section, central portion, and then the north section. The most troublesome errors are found on the map where these sections adjoin, particularly along the eastern part of the central portion.
What I observed in the field was different in various ways from the two Parce lists (alphabetical and numerical) and my study has compared and checked their data against what is upon the tombstones. My work, which may have errors, includes all of the correct information from the stones, and the old lists when stones are now missing, and thus is intended to replace the other lists.
Several stones from the 1941 Parce list were not found in 1994: Thomas L. Allyn, Edwin S. Farnam, Huldah S. Farnam, Rebecca Holbrook, Maria Hubbard, Adelia A. Ahern Pulford, (old stone of Plina Rogers), Stephen B./H. Savage, and Richard Taylor Jr.. (There may not be stones for the Farnams, Holbrook, and the faceless stones may be Hubbard, Savage, or Taylor.) Several stones are now mostly or entirely illegible: Zebulum Edgerton, Elijah Hill, Ordilla Sheldon, Solomon Sheldon, Asenath Sweet, Joseph Sweet, Mary Ann Sweet, and P_____ Sweet. I have not yet made comparison to the transcription list made by William M. Beauchamp about 1910.
In 1994 a number of individuals which are not on the Parce list were found. Some of these were on the Parce list under severely incorrect names, and others were on stones which have been found during the recent restoration efforts. As I am also counting other representations of individuals (unmarked graves, unmarked field stones, eroded stones, missing stones) there are several more individuals noted here than there are names. The additional or corrected names and individuals are: 2 empty bases, 6 unknowns, Ethan Allen, Polly Cary, Daniel Davis, George Dings, Charles L. Fisher, Francis N. Ferry (or Terry), J.M. Fisher, Caroline Graves, Carret Hotaling, Garret H. Hotaling, Millie Hill Humphreyville, Elijah E.C. Jackson, Marion Kellogg, Celestia Lansing, Hannah Lansing, Lucien Lansing, Sarena Lansing, Isaac Merriam, ______ Morehouse, Earl Olcott, Ella J. Larabee Olcott, Cora M. Olcott, ______ Potter, Burton Reynolds, Emmie Adell Robins, Calista Rogers, Marcia A. Savage, Grace A. Shankland, Elizabeth Skiner, Annie C. Spencer, P_____ Sweet, Alta Leonia Thompson, ______ Watkins, and Byron P. Wells.
Donald and Barbara Gwinn, who live next door to the cemetery, told me that there are several stones buried under the junk in their barn. These stones were not accessible at the time of my survey, but Mr. Gwinn said that he was interested in making them known. There are also many unmarked graves, and Eleanor Hyle Dillon tells me that her Great Great Grandfather, Samuel Cook, is buried in the blank space between his two wives (Clarissa Cook died 1845, and Sena Fairbanks Cook died 1869) but there has never been a stone to anyone's knowledge or record.
The cemetery, clearly marked by a well constructed stone wall, is 188 feet deep (east to west) and 213 feet wide (north to south) with a 40 by 43.5 foot block occupied on the central west part by the back part of the church building, for a total of 38,304² feet. The burials are evenly scattered throughout the cemetery with no noticeable clusters (family groups excepted). The graves are in straight rows but the rows tend to be short or extend only 1/3 of the way across the cemetery, suggesting that each part of the cemetery was recognizably separate (north, south, and east of the church) but that the new burial plots were laid out as the needs arose. Burials go all the way to the edges of the fenced in area except along the back (east) where the row is very sparsely occupied. The headstones are at the west end of the grave, with the faces to both the east and west, primarily the west. The rows are about 10 feet apart and the graves are allotted about 3 feet width. Although two gates are located on the west side of the cemetery, on the north and south sides of the church, there are no apparent lanes or paths through the cemetery.
People in Pompey
LITCHFIELD, Elisha, a Representative from New York; born in Canterbury, Windham County, Conn., July 12, 1785; attended the common schools; learned the carpenter's trade; moved to Onondaga County, N.Y., and settled in Delphi (now Delphi Falls), N.Y., in 1812; major in the War of 1812; served as justice of the peace and supervisor of Onondaga County; appointed postmaster of Delphi November 28, 1817, and served until June 25, 1821; engaged in mercantile pursuits; member of the state assembly in 1819, 1831-1833, 1844, and 1848, and served as speaker of that body in the latter year; elected as a Republican to the Seventeenth Congress and as one of the Crawford Republicans to the Eighteenth Congress (March 4, 1821-March 3, 1825); was not a candidate for renomination in 1824 to the Nineteenth Congress and withdrew from public life and active business pursuits; moved to Cazenovia, Madison County, N.Y., in 1838 and died there August 4, 1859; interment in the Delphi Falls Baptist Church Cemetery, Delphi Falls, N.Y.

Born:                   June 10, 1826 at Pompey, NY

Entered Service in the US Army from Pompey, NY

Earned The Medal of Honor During the Civil War For heroism November 24, 1863 at Lookout Mountain, TN

Died: April 25, 1900 at the age of 73

First Sergeant Norman Potter was one of twenty men cited for personal valor in the fighting in and around Chattanooga, Tennessee, November 24 & 25, 1863. On November 24 he was one of four men of the 149th New York Infantry Regiment to earn the award for his valor at Lookout Mountain, where he captured a flag of Bragg's army, (Confederate States of America).

Henry Warner Slocum

Henry Warner Slocum was born on September 24, 1827 in Delphi Falls, N.Y. He was the sixth child of eleven born to Matthew Barnard Slocum and Mary Ostrander Slocum. Matthew was born in Marietta, Ohio, in 1788, and in 1802 moved to Newport, Rhode Island. Ten years later he moved to Albany, New York where he met and married Mary Ostrander in 1814 (1). In 1817 the Slocums moved to the village of Delphi in Onondaga County where they lived in rooms adjoining the family business, "Slocum & Marble." The family home was called "Cheapside."

Along with the other children in the area, Henry attended the Delphi Public School. In addition to school, Henry helped out in his father's store. To raise extra money, he bought and raised sheep. In time, due to his financial initiatives, he earned the nickname "Speculator," or just plain "Spec" (2).

Henry attended Cazenovia Seminary in nearby Madison County and at age 16 received a Public School Teacher's Certificate (3). He was hired in the winter of 1847-48 to teach in a one-room school in the hamlet of New Woodstock (4).

In 1848, Henry Slocum received an appointment to the United States Military Academy at West Point. He finished seventh in general merit in a class of forty-three cadets, which included George Crook and George Hartsuff (5). With only sixteen demerits for his entire academy career, he finished twentieth out of two hundred and twenty-four. Although he graduated a year later, Philip Sheridan was for a time Slocum's room-mate. Gen. Sheridan, in his memoirs, wrote, "Good fortune gave me for a room-mate a cadet whose education was more advanced than mine, and whose studious habits and willingness to aid others benefited me immensely" (6).

When Henry Slocum graduated from West Point in June, 1852, he was commissioned a 2d Lieutenant in the First United States Artillery. His first assignment was to Fort Meade, Florida where he participated in the Third Seminole War (7). In 1853 his company was sent to Fort Moultrie, South Carolina, located in the harbor of the city of Charleston. In 1854, on a trip back to his home in upstate New York, Henry married Clara Rice of New Woodstock, a former classmate from Cazenovia Seminary (8).

While stationed in South Carolina, Henry studied law with a local attorney named B.C. Presley. Commissioned a 1st Lieutenant in 1855, Slocum was beginning to consider a legal career. During the unusually warm summer of 1855, his wife and daughter Caroline both became ill, and then word came that his unit to be sent back to Florida. In October of 1856, young Caroline died in Charleston, and eleven days later, Henry Slocum resigned from the United States Army (9).

Upon his return to Onondaga County, Slocum was admitted to the bar, and he bagan the practice of law in Syracuse. With money he had saved, he bought a modest house on the northwest corner of West Onondaga Street and a street that was later renamed "Slocum Avenue" in his honor (10).

In November of 1858, he began his political career with election to the New York State Assembly (11). In 1860 he was elected to a three-year term as Treasurer of Onondaga County. He also served as an instructor of Artillery Service in the Militia with the rank of Colonel.

With the beginning of the Civil War in 1861, Henry Slocum immediately volunteered to raise a regiment of light artillery, but was turned down by Governor Morgan, who, like so many others, felt that the war would be of short duration. The 27th New York Volunteer Infantry from Elmira then elected Slocum as their Colonel even though he was a complete stranger to each officer in the regiment (12).

On July 10, 1861, the regiment left Elmira for Washington, D.C., and on July 21 they took part in the First Battle of Bull Run. After receiving a wound to his left thigh, Slocum was removed to a hospital in Washington where he wrote his wife, "I am bolstered up in bed, making my first attempt at writing. I am as happy as a clam in high water. My regiment covered itself with glory. It was one of the first in, and last out. Not a man showed the white feather" (13). The Colonel returned home to Syracuse to recuperate from his wound. He was on sick leave of absence from his command from July 22 to September 10, 1861 (14).

Slocum was promoted to Brigadier General in August, and his unit served in the Defenses of Washington, September 1861 to March, 1862, and participated in McClellan's Peninsular Campaign, the Seige of Yorktown, action at West Point, the Battle of Gaines Mill, the Battle of Glendale, and the Battle of Malvern Hill (14).

After his promotion to Major General in July of 1862, he led his men into the Battle of Crampton's Gap on South Mountain, Maryland, September 14, 1862. This battle was the prelude to America's "bloodiest day," the Battle of Antietam. About the charge, General Franklin wrote, "…the advance of General Slocum was made with admirable steadiness through a well directed fire from the enemies batteries on the Mountain…The enemy was driven in utmost confusion from a position of strength…The pass was cleared and in possession of our troops" (15)

When General Joseph Mansfield was killed at Antietam, Slocum rose in the command structure of the XII Corps. They participated in all the major engagements of the Army of the Potomac from Fredericksburg to Gettysburg. At the small town of Gettysburg, Pennsylvania, Slocum's XII Corp fought in the area of Culp's Hill. On the second day of the battle, when General Meade requested that Slocum send his entire corps to the Union left, Slocum wisely suggested that one brigade stay behind – General George Sears Greene's Third Brigade which included the 149th N.Y.S.V. Infantry under Colonel Henry A. Barnum (16). Gen. Greene wrote, "To the discernment of General Slocum who saw the danger to which the army would be exposed by the movement ordered by Meade to deplete the Right Wing…is due the honor of having saved the army from a great and perhaps fatal disaster" (17).

In September of 1863, the XI and XII Corps were transferred from the Army of the Potomac to Tennessee in order to reinforce General Rosecrans. General Slocum's men fought at Wauhatchie and Lookout Mountain, and in April of 1864, Henry Slocum was ordered to command the fortified post and District of Vicksburg. When General William T. Sherman organized his Atlanta Campaign, he chose Henry Slocum to command the XX Corps, and on September 2, 1864, Slocum's men occupied Atlanta, Georgia. Sherman's "March to the Sea" brought unparalled disaster to the Southern countryside in the army's path. Yet Slocum exhibited compassion. On November 7, he wrote his wife, "I wish for humanity's sake that this sad war could be brought to a close. While laboring to make it successful, I shall do all in my power to mitigate its horrors" (18). On the final march to the sea, Henry Slocum commanded the Army of Georgia, the left wing of Sherman's army. On December 22, with Slocum presiding over the city's surrender, Sherman wired President Lincoln, "I beg to present you as a Christmas gift the city of Savannah…"

When the Army of Georgia and the Army of Tennessee under Oliver Otis Howard undertook the Campaign of the Carolinas, it was Howard's wing that occupied the South Carolina Capitol of Columbia. As the armies pushed further, battles were fought at Averysboro and Bentonville, and on April 13, 1865, Raleigh, North Carolina surrendered. Of Bentonville, a fellow officer wrote, "The Battle of Bentonville was General Slocum's fight…The bloody combat…was peculiarly his own affair, out of which he has come with fresh laurels" (19). Although the Army of Northern Virginia under Robert E. Lee had already surrendered, the Army of General Joe Johnston continued to fight. Finally, on April 26, 1865, Johnston surrendered. The Union armies returned to Washington, D.C. for the Grand Review. Henry Slocum rode at the head of the Army of Georgia (20).

With the war over, Slocum returned to Syracuse to continue his practice of law (21). In 1865, he was nominated by the Democratic Party of New York to run for Secretary of State. His opponent was General Francis Channing Barlow and Slocum lost to his Civil War comrade, 301,055 to 273,198 (22). The next year the Slocums moved from Syracuse to Brooklyn, and in 1868, Henry Slocum was elected to the United States Congress from the Third Congressional District of New York. He was re-elected in 1870. In 1876, Slocum was appointed Commissioner of Public Works in the City of Brooklyn, but resigned before his term expired. After traveling in Europe with his family he returned home to campaign for another Civil War comrade, General Winfield Scott Hancock, who was running for President. Hancock lost the election of 1880 to James A. Garfield. Slocum returned to politics in 1882 when he ran for Congressman-at-Large and won with a plurality of over 100,000 votes out of 900,000 cast (23). He was President of the Board of Trustees of the New York State Soldiers' and Sailors' Home in Bath, N.Y., and was a member of the Board of Gettysburg Monuments Commissioners.

Death came to Henry Warner Slocum on April 14, 1894 at his home in Brooklyn. Among the pall bearers at his funeral were Fitz John Porter, Oliver Otis Howard, Daniel Butterfield and Daniel E. Sickles. Slocum was buried with full military honors in GreenWood Cemetery in Brooklyn (24).

End Notes

1. Slocum, Charles E. The Life and Services of Major General Henry Warner Slocum. Toledo, Ohio: Slocum Publishing Co., 1913, p. 5.

2. Ibid, p. 7.